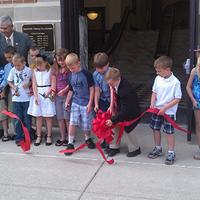 step back in time field trip next Friday | news
Third grade classes in Randolph County will have a special treat this week when they visit the Winchester Courthouse. A historical excursion, stepping back in time, is planned for Friday, May 6 from 9am to 1pm in and around the Court Square. The event, sponsored by the Community Foundation of Randolph County, Randolph County Historical Museum, Randolph County Tourism and Walmart, was created to increase students' knowledge of Indiana and local history. A grant from Indiana Landmarks made all of this possible, along with a multitude of community volunteers.
"In fourth grade, students typically begin studying Indiana history," said Missy Williams, Randolph County Council member and principal coordinator. "I think it will be an educational and fun day for the boys and girls as they learn about the history and heritage of Randolph County."
The day begins at the Bicentennial Plaza with expert presentations from Dane Starbuck and Ted Leahey on Indiana's two governors, John Goodrich and Isaac Pusey Gray, with ties to Randolph County. Town crier Braydon Hoggatt, a Union City High School senior, will offer the news of the day as he did centuries ago.
Additional learning stations are held at the Courthouse Bell, the Soldiers and Sailors Monument, the Doughboy Statue, and various offices and courtrooms of the courthouse. The story of Winchester Speedway is told by racers Tom Bigelow, Brady Bacon and Mark Haney. The fur trade and barter in early Randolph County is explained by historian Tom Franklin.
Several antique cars and trucks are on display by Joe Bertram, Farmland Volunteer Fire Department, Pat Ohern, Ron Stauffer, John Bartlett and several others. After a two-block walk south to the Randolph County Historical Museum, Thursa Nunley Short, Mick Holloway, John Wilt and other volunteers will give a tour of the museum.
Lunch will be prepared with the help of Ohio Valley Gas Company employees grilling hot dogs. For dessert there is sugar cream pie with a history lesson from Dylan Wickersham about the famous Wicks Pie factory and restaurant.
A highlight of the day will be the recognition of some special seniors from across the county who once helped make the clock face on top of the courthouse possible.
"Second graders from 2010-11 collected pennies for the southern dial during the courthouse renovation, and SilverTowne's Dave Hendrickson made the difference," Williams said. "When the courthouse was rededicated in 2011, only 14 second graders showed up for the ribbon cutting. They were promised to be recognized as seniors for their efforts on The Penny Project."
At this year's Step Back In Time event, one of those students, Monroe Central senior Kristin Northcutt, will share the fundraising story of how she and her fellow students made a difference with their pennies. She will then introduce other seniors present.
The educational field trip, which began in 2019, made its own history last year when it received Indiana Landmarks' 2021 Sandi Servaas Memorial Award, which recognizes excellence in historical preservation and history education among youth. Williams, retired Community Development Director of Randolph County United and Community Foundation board member, accepted the $1,000 award and sculpture at the annual Randolph County Community Foundation dinner last fall.
With the help of Randolph County Tourism Director Scottie Harvey and PROMISE Director of the Community Foundation Karen Dillow, Williams and volunteers are inviting the public to join the historic field trip on Friday.
"We just want the public to know that this is first and foremost for the students," Williams said, "so we're hoping people will follow the tour groups and not disrupt the history class."